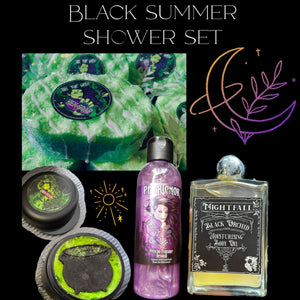 Black summer shower set
Queen witches! Here we have a shower set of 4 hex item to wash, exfoliate and moisturise your skin.
showergel/whipped soap scrub/ exfoliating soap sponge and multi skin boost body oil.
.1•The fragrance of petrichor is in the air! That nostalgic scent after it rains. This addictive fragrance is perfect for  waking up your senses in the morning. Aloe Vera based shower gel in a mild formula, vegan skin softening and sls free. Purple metallic petrichor💜
150ml
2• Our  kindred whipped soap sugar scrubs.150ml Allscrubs are formulated with moisturising aloe Vera whipped soap and raw organic sugar, they form a great lather and are all topped with a mini soap. Kindred in gingersnap fragrance and a cauldron soap. Vegan/sls and paraben free 
3. 200g 100% that witch- Exfoliating Soap Sponge in raspberry candy floss fragrance.
These smell absolutely amazing and are so simple to use The Exfoliating Sponges remove dead skin leaving it soft & smooth.
Our soap sponges will last approx 2-4 weeks with daily use. After all the soap is gone they can be used as a standard sponge :) HOW TO USE: Just wet the sponge with a little bit of warm water to make it softer and wash as normal. Leave to dry between uses. Do not leave the soap sponge submerged in water. ✔ SLS FREE - VEGAN FRIENDLY - CRUELTY FREE - MADE IN THE UK ✔ Handmade with the highest quality ingredients
•
4• Nightfall body oil- made from oils that nourish, protect, and hydrate the skin. Lightweight body oil formulated to absorb quickly into the skin, leaving even the driest skin feeling soft, smooth, and hydrated. 100ml glass sustainable bottle. Can be reused.
ingredients include- rose hip oil/sweet almond oil/ black orchid essential oil/ vegetable glycerin/ olive oil and more.
Use after you shower or bathe-benefits include•
helps boost collagen formation. ...moisturises and locks in moisture, great for dry and aging skin and can be used everyday
savings with this box set rather than purchased individually