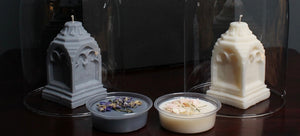 Gothic grave stone candles & wax melts gift set of 4
The Gravemarker Gift Box is the perfect Christmas gift for lovers of gothic home decor and the macabre. Ideal gothic gift for those dark at heart. Delivered to you or your loved one ready to gift
All of our wax collection is vegan friendly.

Candles included in the Gift Box: 
- Ivory Gravemarker Candle (Ritual Rose scent) 
- Grey Gravemarker Candle (Cardinal Musk scent)
Wax Melts in the Gift Box: 
Blackened Botanics Melt Pots in the scents 'Midnight Mourning' and 'Cardinal Musk' 
The Scents:
Cardinal Musk: 'The Sweet Scent' A warm and sensuous aroma with true sweetness coming from luscious Musk. The body of the scent is held in sandalwood, an iconic rich scent. This is a subtle and captivating scent.
Ritual Rose: 'The Floral Scent' A sophisticated luxury scent that mirrors freshly picked roses. A hint of sweetness and a full blown floral aroma.

Materials:
- Soy Wax Blend (blended with other natural vegan waxes)
- Fragrance Oil
- Wax dyes
- Candle wick