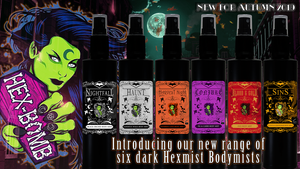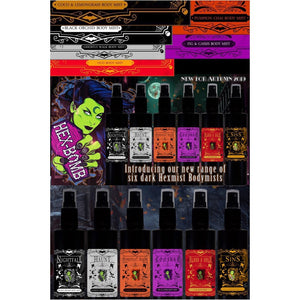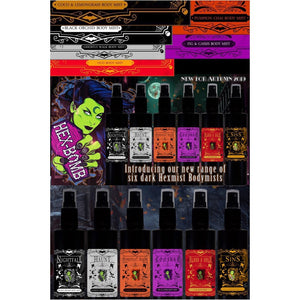 Hexmist Body Mists 100ml (6 Choices Available)
Our dark Hexmist body mist range are mystical & macabre. Perfect dark fragrances include. NIGHTFALL-black orchid fragrance- an addictive musk -base combines woodsy notes (patchouli and sandalwood), dark chocolate, incense, amber, vetiver, vanilla, and balsam.🌑
HARVEST NIGHT- pumpkin chai fragrance- think warm pumpkin and chai tea on an autumn night🍁 CONJURE- fig & cassis fragrance-This is a fresh fruity and woody scent that is fairly unique in the fragrance arena. It has a prominent herbal note above all, along with the fresh cassis and fig.🔮 SINS- coco & lemongrass fragrance- a strong mist with fresh coconut & citrus notes.
🕸 BLOOD & GOLD-oud fragrance- a perfect unisex fragrance, rich woodsy base notes and a hint of nag champa musk⚰️ HAUNT-ghostly walk fragrance- rich earthy fragrance on a chilly misty night. You must smell this and see. Perfect unisex fragrance.
* PLEASE NOTE- no returns on personal care items like perfume mists, please read the description on fragrance before purchasing.