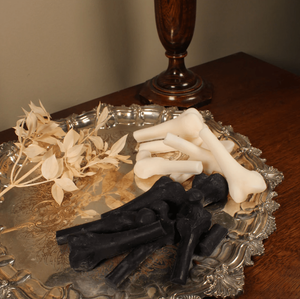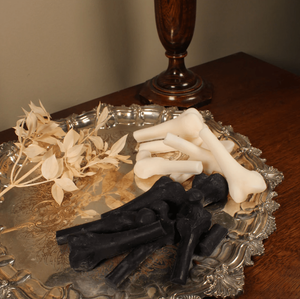 Large Bag of Bones- ivory or black-soy artisan wax melts
Our wax range is expanding, so of course Bones had to be involved in our new wax melt product! Our take on the traditional 'wax melt snap bars' - snap your bones and pop them in to your wax melter one chunky piece of bone at a time. Created using  new luxurious fragrances that will immerse your gothic home in beauteous and bewitching aromas. Sold in boxes containing 3 Bones.
The Fragrances:
- Midnight Mourning: 'The Rich Scent'
A rich and earthy aroma with Black Pepper to uplift to an all-round spicy aroma. Notes of sandalwood bring a subtle and luxurious musky wholesome scent.
- Ritual Rose: 'The Floral Scent'
A sophisticated luxury scent that mirrors freshly picked roses. A hint of sweetness and a full blown floral aroma.
Materials:
Soy Wax Blend (blended with other natural vegan waxes), fragrance Oil (vegan), wax dyes. Net Weight: 150g 
These melts can be used in an electric melting pot or a ceramic burner. They can be melted and remelted until the scent has eventually dissipated into oblivion.