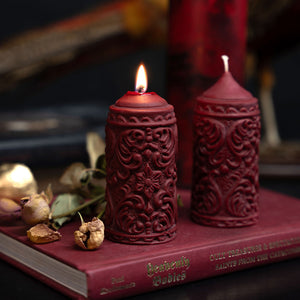 Crimson red gothic baroque candle
The Ornate Gothic Pillar Candle. Meet the ornately beautiful 'Mildred'.
She likes to sit amongst the most beautiful of mantle pieces and boldly out shine all of the other pillars in your collection with her intricate baroque embellishments. 

Our Pillar Candles are handmade by our in-house Chandler using a Soy Wax Blend and Vegan Scents.
The Fragrance: Victorian Plum & Rose luxury vegan oil. Notes of spice, musk and sweet fruit aromas. 
Dimensions: Height 12cm, Width 5cm. Weight 250g