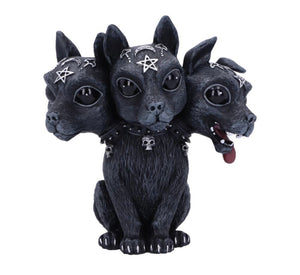 Diabarkus Cerberus figurine
Diabarkus Occult Cerberus Figurine. 

This strange creature is the union of good and evil. As you look into its black eyes you notice that all is not as it seems, darkness resides within. Featuring occult symbology and ornate silver detailing, this hound sits proud and on guard, whilst their serpent like tail can be seen wagging behind them. Cast in high-quality resin before being carefully hand-painted, this figurine is likely to be the cutest occultist you've ever seen.


Scarily adorable cerberus figiurine.

Cast in the finest resin.

Lovingly hand-painted.

Size 10.5cm.