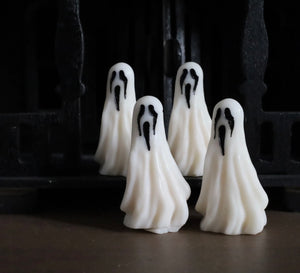 Ghoul gang set of ghost soy wax melts
Custom made ghoul gang ghosts! Set of 4  choose from 6 scents: 
Sleepy Hollow - A sweet maple fragrance warmed by top notes of orange with a spicy centre of cinnamon and ginger and an unexpected ending of maple syrup and vanilla.
The Witch House - Combining woody notes of amber and patchouli, spicy notes of incense and herbal floral hints of jasmine and violet. This will make you feel like you are by a roaring open fire, providing comfort on long winter nights. 
All Hallows' Eve - A delicious blend of nutmeg, ginger, clove caramel, tonka and vanilla bean (pumpkin spice)
Crypt Cauldron - A blend of dark leather and oud on a base of musk and patchouli. A great woody blend to burn on an evening.
Sweet Salem - A blend of caramelised baked apples, a hint of nutmeg, vanilla and sugar pastry. All topped with a sprinkle of cinnamon spice
Toasted Marshmallow - Sweet toasted marshmallows with caramelised sugar and base notes of smoky bonfire.