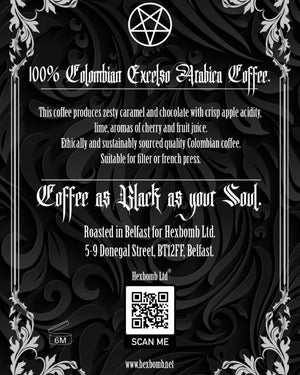 Hexbomb As black as your soul artisan ground coffee bag 250g
250g Black as your soul freshly ground excelso arabica Colombian coffee. This product produces zesty caramel and chocolate with crisp apple acidity, lime, aromas of cherry and fruit juice.
suitable for filter or French press•••
Our coffee roasters focus on sourcing quality coffee, fostering relationships with like-minded farmers, producers, and exporters to ensure traceability, transparency, and sustainability and to showcase the best tasting coffee we can.

This product is a labour of love in our culturally blended family and we have ethically sourced it to the highest quality while also supporting local
businesses in 2 different countries🖤
Colombian excelso coffee beans as black as your soul roasted in Belfast for Hexbomb Ltd.
Irish coffee anyone?